Why Do Bikers Wear Rings [A Must-Have Accessory For Every Rider]
Some of us may be wondering about the topic "why do bikers wear rings?". We may also think, why do bikers wear skull rings? There may be different thoughts and queries! In order that we are here, to share the reasons & few facts behind it.
To be true, it is a fact that every biker appears charmed to wear rings. Depending on the personality type, they choose to wear and cast a portrait of their rebellious & free spirit that freaking loves to ride. Indeed, it's a lifestyle with a culture!
Being a biker is distinct, attire to accessories are comprehensively different especially the rings bikers wear; The Biker Rings. There are several reasons why bikers wear rings. In terms of motorcycling, the biker rings are more well-known and widespread for so many good reasons.
In general, it is noticed that wearing biker rings is a kind of one of the great ways to showcase personality, style, and interests.
But-But -But, there are other additional key motivations that clearly define the reasons to wear rings by most bikers. In this post, we will brief you on the story behind, bikers' rings' meaning and also with a few cool facts on why bikers wear rings, specifically skull rings.
Moreover, or is it really a substitute tool for brass knuckles: for hand-to-hand fighting? We will uncover that too, be with us!
In this article
The story behind biker rings
8 cools facts
Closure
Bestselling biker rings on Amazon
Story Behind Bikers Rings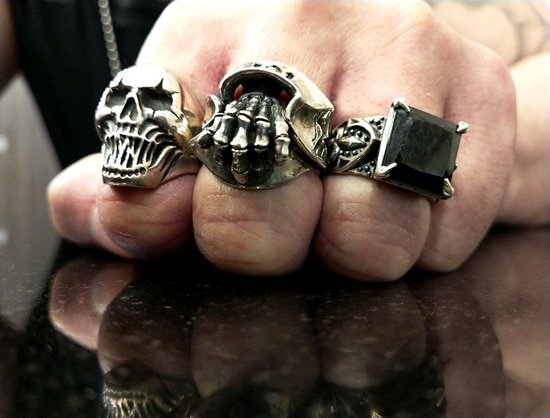 The story behind the Mexican bikers' ring is really fascinating.
Talking about its history, those burly metal jewelry items with original motives were made first in Mexico being called Mexican biker rings.
It is studied that, at the end of the Mexican Revolution, the peso(Mexican Currency) lost its worth value poorly, where plenty of coins without worth are melted as an opportunity to make jewelry items. Mexican craftsmanship evolved with beautifully shaped rings with skulls, animal art & ornamentation that could be worth more than the Mexican coins.
Somewhere between the 1940 and 1950s, it is studied that hot-tempered motorcyclists often hang out drunk around the Mexico border bullying the locals. Eventually, with low cost, distinct-looking rings caught their attention to make jewelry of their type full of enthusiasts.
Well, another reason these rings sparked bikers' interest is back in the 1940s, it appeared to be one of the smart ways to get around the banned knuckle dusters, where most bikers began wearing the big & skull rings. Till today, it's a class and shining identification that has never disappeared.
8 Cool Facts
It is a well-known fact that biker rings are more prior than any other accessories to most bike riders.
The main reason they wear rings is that in their personality appearance it has a significant meaning and value that resonates with them. Despite this, there are a few other reasons why bikers wear rings which are precisely listed below.
1. Bikers Rowdy Taste Of Fashion
Many people respect bikers' unique sense of style. Their entire look is designed to make them appear confident and dangerous. They aim to make people afraid of their gadgets while still expressing their affection for them.
2. A Creation Of Statement [Who They Are]
Biker rings, as previously stated, express who they are. The rings symbolize not only their personalities, but also what they stand for, their worldview, and their belief in good faith.
Wearing biker rings, whether a Maltese cross, a skull, or even just the Harley Davidson insignia, is a great way to show off your flair and edge when riding. Many motorcyclists wear rings to show the world their identity, add some edge to their appearance, flaunt their rough attitude, or pay homage to their affiliations or interests.
3. Adaptation Of Trend
Every biker has their own taste of choice with different preferences. However, it is a great way of expressing those preferences and keeping the biker's style. That is why adding accessories like rings with different symbols creates a personality growing with popular culture.
4. Subject Of Conversation For A Chat
It's a phenomenon that a distinct personality appears to attract people's attention naturally where there comes the opportunity to start the conversation in a serene way. So, whenever if you found yourself speechless, you could make a way to hook up with a biker ring.
5. Bikers Are Fond Of Skull Rings
In biking culture, the skull ring is the most popular symbol when compared to others. For some people, it will symbolize death, supernatural forces, and fear, while for others, it is a symbol of a new beginning and resurrection.
The bikers seem to believe that if you own a piece of jewelry with a skull, death will not come after you.
6. Easily Affordable Distinctive Pick For Riders
At an affordable price, most of the items even in those times didn't cost much which motivated the bikers to invest. That ultimately helped to make their own distinctive image, biker club, and style with specific symbols.
If you wonder how massive and heavy those rings were, you'll see that it was a great deal to hook up with.
7. Substitute Tool For Brass Knuckles
Being smart is a tact, bikers as we all know are also hot-tempered people. What all substituted are big, massive, and heavy rings instead of brass knuckles for hand-to-hand fighting. It all started in Mexico when knuckles were prohibited and banned.
8. Elvis enjoyed the Charm Of His Biker Ring
Despite the intractable fact that the muscular and bulky guy must wear these rings. Talking in detail, The King of Rock and Roll, Elvis used to wear Mexican biker rings(Elvis Presley Lion Head Ring available on Amazon). They tend to be heavy, and big with greater in size. Indeed, they are probably of more weight but once get used to it they tend to make a worth belonging on your finger.
Closure
As already told, your choice, taste, and preference are what matter the most, on that basis, it specifies rings that make a worth making a statement about who you are.
So, that's everything all about why bikers wear rings! If you are a biker, then for sure you might have made up your mind to get one for yourself too.
What do you think, is it a must-have accessory for a Harley or for any other motorbikers?
Check out the below-listed items, I predict that few might suit your style and help bring out the real you, wherever you make your way out.
Shop At Lower Prices On Amazon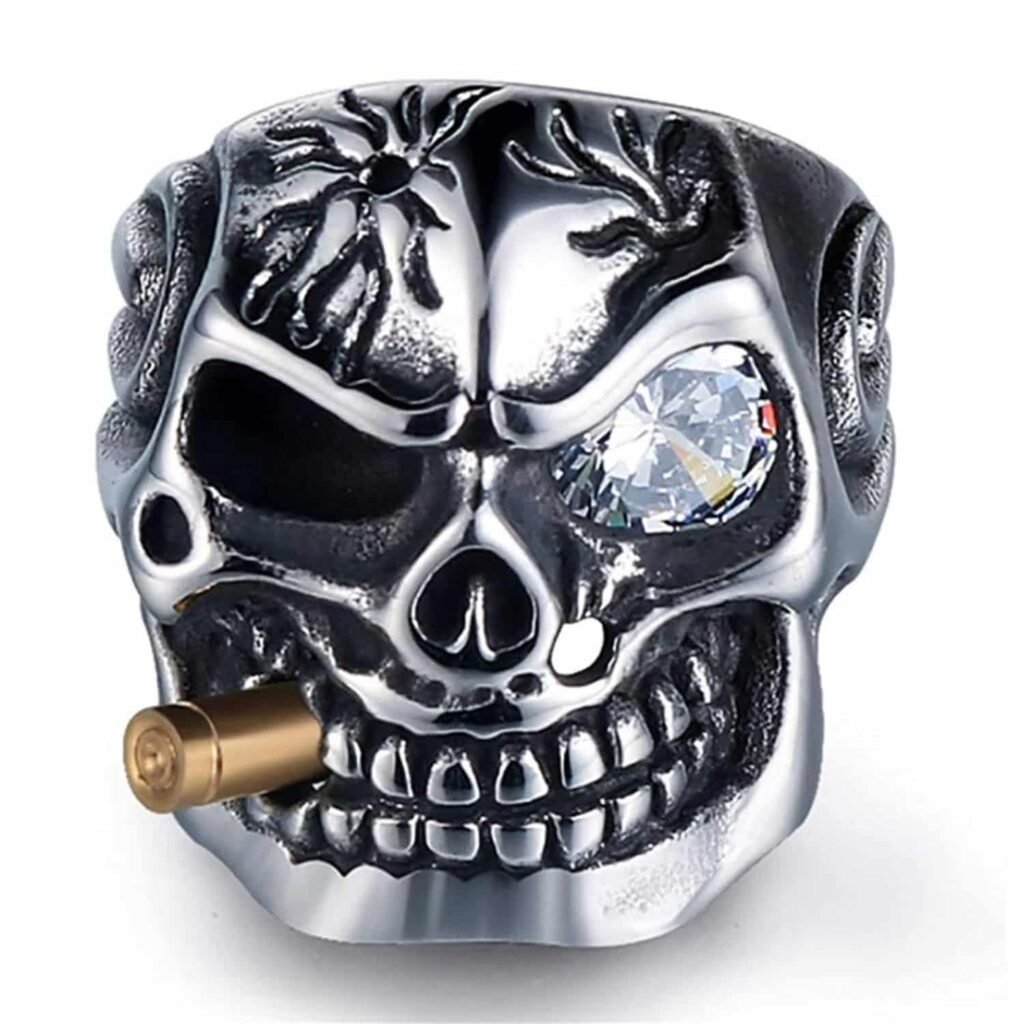 Vintage Stainless Skull Smoking Biker Ring


Black Stainless Steel Red Crystal Signet Biker Ring
Vintage Gothic Biker Tiger Head Ring
Check Price



Middle Finger Hip Hop Punk Ring for Men Women
Check Price

Article Sources…