12 Best Airplane Seat Back Tablet Holders And Ipad Mounts
Costly airlines like American Airline even used to remove seatback screens some time so, you must have to be prepared to entertain yourself. I recommend you take the best flight tablet holder or the best airplane Ipad holder as per your need for convenience. This will not only ease you physically but also treats you as a streaming assistant. Shout out to a simple and very useful important gadget to be carried while traveling AKA airplane seat back tablet mounts.
You must have to load your smartphone or tablet with entertainment stuff like music, movie, music videos, games, etc. as per your interest. Aviation experience with a kind of theater experience on a budget sounds cool, right?
There are many airplane seat mounts available on the market but you have to purchase the best airplane tablet holder that will fit best for you.
In this post, we've listed the 12 best airplane seatback tablet holders among which a few of them are well tested too. Sure you won't regret buying one of these products because these gadgets are super handy and will make your traveling memorable even traveling in the economical class.
In this article
Review of best tablet holder and Ipad mounts
Pros & Cons
Closure
Advantages of tablet holder in airplane flights
Top 12 Best Airplane Seat Back Tablet Holders And Ipad Mounts
Plenty of questions will likely come up in your mind which we will discuss, how to use an aircraft iPad mount? Elsewhere where an airplane iPad holder can be used? And last but not least the best airplane tablet holder according to customer reviews and our recommendations.
1. CHARGEWORX Airplane Inflight Magnetic Tablet Mount
ChargeWorx is an In-Flight Magnetic Device Mount that makes you hands-free to view your smartphone or tablet on any travel. It is one of the must-have devices frequently used for flight travel by most travelers.
The strong magnetic hold of ChargeWorx keeps your phone and tablet attached to the mount so you don't have to worry about your tablet and pads from accidental falls.
Why We Picked?
ChargeWorx airplane seat mount provides 360° rotatable balls and sockets features that possibly make the viewing angle comfy(upright) even if you found yourself in a locked position.
You can use this airplane iPad holder and tablet mount wherever you want on the airplane seat back at the time of your travel.
Turbulence-tested stronghold of ChargeWorx does not allow the mobo device to get out from its adjustments, eliminating no tilting no matter how bad the runway is during the takeoff.
Super handy! It will definitely prevent you to get aches in your neck. While most of the genuine travelers seem to have expected problems in their necks from the hectic and unequipped journey.
Pros :
Universal use
Turbulence tested
Scratch-resistant
Can hold any devices with cover on the smooth back
360° adjustable for comfy & private viewing angles
Cons :
Device must have a metal surface
2. Arkon Folding Airplane Tablet Stand
Arkon is a high-quality folding tablet stand and one of the best airplane iPad holder that is compatible with almost all tablets. Arkon case and portable design fold up for easy storage in any travel bag. Non-skid cushioned pads and slotted feet provide stability to the tablet stand and tablet.
Why We Picked?
This gadget almost takes up no space or weight in the backpack and requires very little setup.
Easily customizable!! Landscape or portrait mode and every possible angle can be altered within a few seconds. Seems like it could hold anything with ease.
Whenever it is tied for travel, the stand easily fits in a briefcase, the notches remain well adjusted, and hold the bottom edge of any tablet just fine.
Pros :
Foldable
Easy affordable
Takes no space
US patented
Holds all iPad and Galaxy models
Cons :
3. Flight Flap Phone & Tablet Holder
FLIGHT FLAP products work on most phone and tablet devices and are perfect for traveling with kids – wherever they want their content.
Why We Picked?
It's definitely a conversation starter on a flight, people look to glance at your phone to watch Netflix without giving up the space taken up by the meal tray. Highly recommend it, it takes up no space at all.
Wherever you place your phone stand either on your tray table or hanging from the seat in front of you, your phone or tablet will feel right at home or on your next flight. Is this airplane tablet holder can be used for an iPad? The answer is Yes, they are much compatible, easy, and portable airplane iPad mounts.
This travel gadget is so thin and light, it just stays in every travel bag without any concern.
Pros :
Folds flat
Simple design
Can hold both phone and tablets
Smooth edges that won't give scratch
Also works with covers and protectors
Cons :
Greater pressure can move the device's position
4. TABLETHOOKZ v2 Tablet and ipad holder
Why We Picked?
When TabletHookz is used as a secure traditional device stand mounted to the airplane seat, it doesn't matter if there is turbulence or the passenger in front is moving around in their chair, this airplane iPad mount will remain securely in place.
Tablehookz offers you to watch your device at eye level, enjoying more space around you and no neck or wrist cramp from holding your device or looking down to watch it.
Today date, many carriers still no longer offer any entertainment stuff on short and medium hall flights, in such instances, the use of tablet hooks allows you to create your own short and sweet world.
Pros :
Cater's young children effortlessly
Compatible with all tablets and iPhone
Reliable for car drive
Includes own lightweight carry pouch
Device securing mechanisms
Cons :
Fitment could be an issue for the new wider backseat trays
5. Universal Airplane in Flight Phone Mount
A universal cell phone clamp holder would be your best travel companion on any air go.
Why We Picked?
Use it over an airplane table tray, Tabletop, or nightstand, it won't hesitate to satisfy you.
This mobo device holder opens up to 3.3/4 inches wide making it compatible from a bare iPhone mini to an iPhone 12 Pro Max with a protective case.
The different combinations of positions literally allow you to mount and position your device to nearly any position you need it to.
Pros :
Universal
Pocket size accessory
Multi-directional
360 degrees rotation
lightweight
strong clamp
Cons :
Limited vertical/horizontal adjustment
6. The SkyClip Airplane seat back mount
Easily attaching to the airplane back seat or tray table in front of you, the SkyClip offers a convenient place to mount your smartphone while you are traveling.
Why We Picked?
It is very stably and stands at the perfect angle for easy viewing. Survive all boring flights or perhaps enjoy the uninterrupted watch time – no texts or calls in airplane mode.
Skyline, one of the best airplane tablet holder can turn your airplane seat into a home theater, offering a comfortable viewing angle and the ability to engage with your own device in a cramped space.
Pros :
Cheap
Compact
Simple to use
Cramped space gadget
Used for home & office purposes
Cons :
Not foldable
Limited viewing angles
7. The SkyClip+ Phone & Tablet Holder for Airplane
Why We Picked?
Compatible with all mobile devices and tablets, it is very useful for both travel and tabletop use. Also, it additionally comes with Travel Bag Compatible with Mobile Phones, Tablets, and Readers.
Made for easy hooks to mount around any Airplane Tray Table. It works great in multiple different types of aircraft with different tray designs.
It is a great travel tool to have to be able to watch shows on a cellphone or tablet on any travel go.
Pros :
Foldable
Multiple adjustments
Takes no space
Non-slip surface material
Pocket size
Set up in seconds
Cons :
Probably need to tie a knot in the string so it doesn't move
8. IFLEX Cell Phone Stand and Tablet Stand for Airplane
Why We Picked?
Completely waterproof and washable, perfect tech stand when on a flight.
The iFlex works perfectly for iPhone and the mini/standard/pro iPad easily fits into a briefcase and even a midsize to a large purse.
Easy to place on your airplane back seat so, your gadget is more eye level or even you can place it on the table/tray too.
Pros :
Washable
Quick adjustable
Non-slip grip material
Holds any phone and tablet
Easily foldable
Cons :
Annoying to bend back into a usable shape after the fold
9. Octa Spider Monkey Airplane Mount for iPad
Why We Picked?
Use while sitting up in bed or in an airplane or on a couch. It works great because you don't need any clips to change from vertical to horizontal and it holds the device firmly.
The octa Spider mount holds a 1st generation iPad just as well as it does the iPad Air. Without any doubt, it is one of the best airplane iPad holders for long hectic journeys.
Keep this in a backpack and head on to your journey without any hesitation, perfect for overcoming hectic disturbances.
Pros :
Enough adjustable height
Universal usage
Premium material
Unique design
Folds up compactly
Cons :
Stability
Limited holding position
10. The Airhook 2.0 Airline & Vehicle Drink Device Holder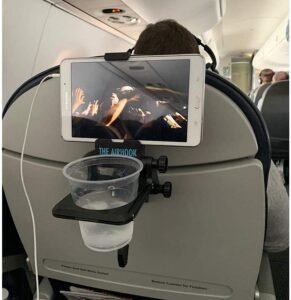 Why We Picked?
Nicely holds phone or tablet and drinks, sturdily. It is especially handy during takeoffs and landings while the tray table is stowed, or if you just don't want to have the table down in front of you.
Comes with a nice travel pouch. Fits into the backpack, and is perfect for every business trip. Very convenient!
Supports cell phones & tablets to keep a solid grasp of the device throughout the flight.
Pros :
2-in-1 product
Compact
Drink holder folds
Universal holder
Includes neoprene travel pouch
Cons :
Stability issue when there is no tablet attached
11. Amazon Basics Adjustable Tablet Holder Stand
Why We Picked?
This Amazon Basics Portable Fold-Up Travel Stand has true Swiss Army knife versatility, and I have no problems recommending this as an excellent product at a very good price.
A clever gadget with flawless engineering made up of titanium and aluminum.
You can use these products in the stand, swiping vigorously horizontally and vertically, keeping your tech devices secure in the stand and did not slide on the surface of the counter.
Pros :
Extremely portable
Folds up compactly
Non-skid base
Quick adjustable
Titanium & aluminum material
Cons :
12. TiMOVO Travel Pillow With Tablet Holder
Why We Picked?
If you are searching for ultimate comfort then TiMOVO would be a perfect choice.
Unlike others; The tablet stands stretches up and compresses down as per the need, so no brainer it would be perfect for comfy seekers in the long haul.
Additionally, the design comes with a U Shaped Travel Pillow. It holds your neck fully and relieves neck pain. So you can have a good nap without leaning on your neighbor in travel.
Doesn't this sound like a good deal to invest in?
Pros :
2-in-1 function
Pressure relieving
Neck rope lock
Effortless installation
Ultimate comfort
Adjustable viewing angles
Cons :
Crowd-puller attention is annoying for some
Advantages Of Tablet Holder On Airplane Flights
Whether you are on long hours of boring flights or looking up information while driving safely. Airplane seat back tablet holder, iPad mount, and mobile phone stands are useful things here. Offering you these valuable benefits :
# Comfort
Not free arms? Chances arise getting aches while holding for so long. Simply you can take the help of iPad airplane seat mounts to hold onto an airplane effortlessly.
# Productive
For most tech-savvy entrepreneurs, cell phone holders and airplane tablet stands are the most essential gadgets to get full utilization of their traveling time being productive with their work.
# Pleasant Flight
It's really tiring and also annoying holding the device for hours in your hands no matter whether you are watching your favorite videos or shows. Your neck and arms will thank you if you use one of these airplane iPad holders and mounts in an airplane especially when you are boarding a long journey.
# Phone Safety
A huge number of travelers accidentally harm their tech devices despite being so protective. These airplane iPad mounts or airplane tablet Holders will avoid accidental hazards with your full confirmation of safety, allowing you to travel stress-free.
Closure
There's nothing to be worried about having it fall out from your pocket or setting your devices anywhere on the flight. These are the Best airplane tablet Holder or airplane iPad holders suited for almost every situation with high customer reviews and ratings.
There is no chance of traveling without your phone, for which I am sure going with these cool phone stands and airplane iPad mount, you won't regret buying any one of the above-listed products! It will keep your device safe, clean, and ready for that next funny video or Netflix original.
FLIGHT FLAP and TabletHookz v2 are the best airplane tablet holder which I recommend.
They are the best airplane iPad holder according to my personal travel experience and also after considering the customer reviews too.
People Also Loved Reading: Best Smart Phone Holders For Comfy Flight