1-Day Shreenagar Palpa Visit
If you ever had wished to catch sight of snow-capped mountains in your travel experiences? Or else had a longing urge to see the country's most lovable flower near at hand. The Palpa Shreenagar dada is waiting for you. And your job is just to have a one-day visit or simply to have a small picnic with family or friends.
Shreenagar is regarded as the forehead of Palpa's headquarters of Tansen. Palpa Shreenagar is the first attraction for tourists in the district. Tansen Durbar is one of the most visited places in Palpa, in today's context.
The name Shreenagar is made up of two words, Shree for beauty and Nagar for the town. The historic site has also become popular among tourists for rest and enjoyment. A panorama of mountain ranges extending from Kanjirowa, Dhaulagiri, Annapurna, and Machhapachhre ranges can be viewed from the hilltop as well as a bird's eye view of the entire Tansen Township on the other side.
Brief History Of Tansen Palpa
Tansen has an interesting history. It was the capital of the Magar kingdom of Palpa. Nepal used to consist of over 30 kingdoms before it was unified, each with its own king and culture. Magars are one of the oldest ethnic groups in Nepal and are believed to be of Tibetan descent. These hill people were a force to be reckoned with in their heyday.
They almost took over Kathmandu at one time. "Tansen" translates to "northern settlement" in the Magar language. In the 18th century, the Magar lost power and Newars gained some popularity. The city of Tansen became a stop on the trade route from India to Tibet As recently as 2006, the city was targeted by Maoists due to the government offices in the city.
The Maoists even burned Durbar Square to the ground. Since then, it's been rebuilt and turned into a museum. Tansen is currently on the UNESCO World Heritage Tentative List, making it the perfect time to visit before it becomes popular.
Things To Do & See In Shreenagar
It's a sad story that most hill stations do not include multiple activities. But Shreenagar stands to be one of the most exciting and en corporating places in Palpa.
From sculptures to things that represent Nepal at the national level. It has all elements to make any traveler's day adventurous.
View Tower
The gigantic building looks like a lighthouse. It surpasses everything to make visitors reach the top. On a good day, people are encountered cherishing the clear sky view of coniferous trees.
Multiple places get visible
Tudikhel
Palpa durbar and museum
Paranomic snow mountains
Similarly structured to Dharahara, the tower is in the middle of the hill station. There's no such primary route to get to the tower base. Anyone from any route can outreach the tower entry point.
Paragliding
Paragliding appears to be a real surprise for most visitors. People can fly free like a bird to get a thriller experience. Most tourists every year start their fresh year at this place. Enjoying the aerial view floating over tansen city.
Fly Tansen Paragliding has been organizing tandem flights above Tansen city.
New Forest Walk
The best thing about these hill stations is that they will give you calm and peace of mind. Those big tall trees with needle-shaped leaves boost the beauty of nature. Close to your heart.
If you are searching for some much-needed me time. This walk and these trees will bring a smile to your face.
"Whether you're conquering rugged slopes or an adrenaline-pumping natural therapy, it is an adventurous getaway. The best lightweight shoes are the go-to choice for visitors making every step an adventure, in comfort and style."
Rhododendron
Rhododendron is called lali gurans in Nepali. And it is a much-loved national flower in the country.
Interested visitors may see lali guras blooming in their natural habitat. It's not found abundantly around the hills. The most favorable time is early in the season. That's onwards March or early May for the growing rhododendron.
The best would be to make a query. The location and the presence of lali gurans inside the park at the time of entry.
Paranomic Himalayas
Nepal is a) rich in ancient cultures and b) diverse in geographical conditions.
How does it sound if I say you can have a glimpse of the highest peaks of Nepal? From Shreenagar itself.
On a clear day, people can enjoy the beautiful panoramic view of Annapurna, Dhaulagiri, and many other peaks. They can have the utmost visibility from the tower top gasping some fresh and cold air. Spring is a crowded season, so you can expect other people to come across you.
One Day Picnic
The hill with open green fields gives freedom which is inviting. People can have fun with their friends and family playing around. Number of waiting places are there allotted for picnic groups. It's an open hangout and beautiful for nature lovers.
People can have a "dry picnic". As well as group picnics. On occasions place becomes crowded with some educational tours; a prospect for travel study.
Low-high elevation and the trees can create navigation difficulty. Thus, parents with their kids must be aware of their presence if playing with some other groups.
This place is popular for short hikes, picnics, and excellent views.
Monument Tour
Tansen city gives you the monument drive to remember and look back on iconic spots.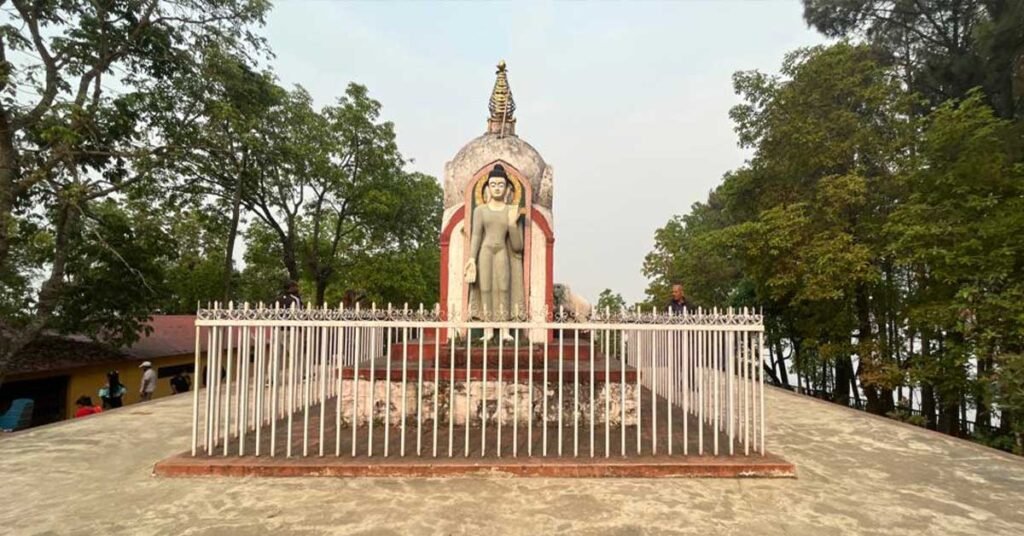 Your monument tour includes a scenic drive to "the statue of Hanuman" who is the Hindu monkey god. And another a "Buddha statue". It's a self-guided walking tour. There are other landmarks to explore. But be sure to make yourself available with water and good outdoor attire.
Take a look at the board while entering the park. And confirm the sites you wish to visit in advance.
Cost & Budget
Unlike traveling to places like cities or any events. Hill station doesn't cost a big chunk. This place is on a budget for travel.
To enter the park, it's mandatory for spot entry. And vehicle entry fees will be charged if visitors want to. For those who want to break down the cost, there's enough parking space outside for private vehicles. Which is alright.
There's a climbing tower cost for every person who wishes to reach the city top.
Attention: Only thing for visitors to consider is to come along with cash. Nearby ATMs and Online acceptance are almost none. I would round below Rs.100/ per person for entry and visiting permits. Yet, the extra costs depend on how you will be moving around.
What's Free?
It's an open hangout place. So charges for activities to move around are not required here.
The hill area is free for fitness movers. People can be seen running across the park in the early morning. In off-seasons nearby locals might be playing cricket on the grass grounds.
For parents wishing to move outdoors, this hangout can be free if their kids love slides. The safety and well-being of children on swings are of utmost importance. However, children on swings can also play for free.
This park doesn't cost extra. Unlike the park like Butwal Fulbari, where people are required to get tickets to take pictures with a big camera. Trust me, getting those permits for photography is the best advice to keep your lens out of trouble and your photos on the right side of the law!"
Places To Stay
People can visit the hill station within a few hours. Or they can also spend a couple of days moving around Tansen city.
Inside the park
No there's not any free wifi or a guest-welcoming stay inside. You can choose to stopover or stay in the hut during the day. It sounds cheap but is abundant for picnic groups to organize and get high.
Hotels & homestays
Many hotels are around tansen city to welcome their clients. But, in special here're homestays that offer local lodging. Most tourists rejoice in the culture of living in a family residence.
I personally recommend making a visit for a day. Since I've been living in Tansen city itself. Exploring the whole town in a single day won't be hectic until & unless you have a private or a rental vehicle.
How To Get Around?
You have to go after the big Tansen written board which is there at the top of the hill. It's supposed to get visible from any open market city area.
Number of blocks can make confusion. But entering through a main gate is only the legal way to have an authorized go.
An unfortunate thing is there are no buses to the Shreenagar dada. To make it easier you can have a private vehicle or a rental car. It's just a 5-minute ride from the Bus Park area.
Or you can walk through, enjoying the view of the hill with the sky. Relax your knees and shorten your stride. The walk can increase your heart rate & can cause trouble if you have kids.
Where To Eat
It's none to find any restaurants and café inside the park. It's surprising people are seen consuming foods that are ordered online. Simple ordinary packaged foods were only available inside the stalls before. But in recent times, kbfoodnetwork.com appears to be delivering good food hospitality for most shreenagar visitors.
Visitors are permitted to take their own cookery and moveable feast inside. But visitors say, "It's a bit more hustle to make our own lunch", meaning they find it easy to order online at the time of visit.
Best Time To Go
Summer and rainy are the most suitable seasons to visit the hills. As the rhododendron in the Himalayan region starts to bloom. The weather is mild and in all probability, Himalayan peaks get visible.
Rainy days are effortful unless you start your day early. But between the heavy fog, everything becomes nothing to it.
Shopping Nearby
Tansen Palpa bazaar is a small and busiest market in Nepal. The specialty of this city is their culture and 'Dhaka clothes'. Dhaka topi, Neplease style women's purses are kept in the market.
The most popular Nepalese water mug 'karuwa' of metal is out of the ordinary. Taksar tole is famous for metalcrafts. Visitors can move around to see their materials and can buy them.
If you're here in the market around august-September. There's a big chance you can see the 'Bhagwati Jatra Special – Lakhe Dance'. It lights up tansen city every year on the occasion of worshipping the goddess Bhagwati'.
What To Take & Wear
The hill station walk is only conditioned for frequent movers. So, the number-1 element to always have is a lightweight shoe. The easier the strides, the better the energy levels.
Second, the parking area has no program for any ready-made food service. Thus, visitors who are sensitive to packaged foods. Can have healthy snacks from home itself. This can make a trip even nurture and low cost on the pocketbook.
The bottom line is all about the treasure. No cards/only cash. Cards are for the most part, more secure than cash. But at shreenagar park, tickets could be done cash-only.
Summary
The Shreenagar has all that short hike, snow peak viewpoints, fresh air, and scenery to enjoy. If you're driven to get some picnic time, it can be a good escape.
It can be the perfect place for meditators, writers, artists, and creative minds.
Shreenagar hill path is a comfortable half-hour walk from the base (core) city Tansen, which will lead you to the top of the viewpoint.
The forest is peaceful and quiet making it perfect for short day hikes.
You can plan the picnic with your loved ones and even with your family. friends, and relatives.
At the top of Palpa batase dada. On a clear day, you can see a perfect view of the Annapurnas and Dhaulagiri.
There's also a view tower in Shreenagar Park. It looks oddly like a lighthouse and seems so out-of-place in Nepal.
A place where you can see sub rays falling on the snow peaks when it is almost dark around you.
Nearby residentials can have the rituals of having morning and evening walks around the Nagar and extracting some fresh air.
There's a small temple at the bottom as well as two statues within the park. One is of Hanuman who is the Hindu monkey god. And another a Buddha statue.
Visitors Duty
Take back all used water bottles or any other non-biodegradables Or dispose them in dustbins.
In case of temporary toilets, ensure the location is at least 30 meters away from the water source.
Cutting or taking away flora and fauna is extensively illegal and is really delicate for bio-diversity.
Do not consume alcohol or any intoxicant and tempt to throw bottles in the wild.