GoPro Mouth Mount For Surfing (5 Best Buy)
Our guide to the best mouth mounts for GoPro includes the best brands and considers social reviews, the quality of the materials used, and design.
Ready to carve and want to record those thrilling moments of your life? Check out our quick-fire guide to the best GoPro mouth mount for surfing.
Sick of getting your GoPro camera falling off during the sports like surfing? Whether it's first-person perspective (POV videos), getting hands-free, or focusing, you'll need a GoPro mouth mount leash to keep it all organized.
You could ride without a safety strap or floating sponge, but what's the point? It only costs a few dollars.
This guide doesn't just explain what's the best GoPro mouth mount, but it also uncovers the cheap GoPro mouth mount available in the market today.
Ready to dive right in?
Best Buy GoPro Mouth Mounts Reviewed
1. MyGo GoPro Mouth Mount For Surfing
Why We Picked?
We've marked this as one of the best gopro mouth mount for surfing in terms of comfort, thanks to the rubber mouthpiece, supports stable footage, and a massive air channel for unrestricted breathing.
With a unique "first-person perspective", MyGo Mouth Mount for GoPro is designed specifically with surfing in mind. And on the go to days, it's amazing to picture all those barrels on your next surf trip keeping hands totally free.
MyGo have worked hard to improve the big air channel for easy breathing, and it's easier than ever.
The new MyGo Mouth Mount is suitable for everything from extension poles like the Evo, to a great first-person perspective, and gives a controlled hold to get the perfect angle on the wave again and again.
You might also read: Best GoPro mounts For perfect POV while Skiing
2. Official GoPro Mouthpiece Bite Mount + Floaty
Why We Picked?
If you've already been researching GoPro mouth mount of pro standard, there's a good chance you've come across Official GoPro Bite Mount + Floaty.
Official GoPro Accessory is a leading brand when it comes to the manufacture and distribution of accessories that capture high-quality surfing photos, whether its mouth mounts to capture close-up action shots that made the subject look like a hero.
Like many surfers, I'm a huge fan of GoPro accessories. I've used their products for surfing, but also for underwater shooting too. And, Official GoPro Bite Mount + Floatymakes #2 on our list of the best GoPro mouth mount review.
We like its floaty as it's an easy-to-spot accessory; it has both a mounting buckle and material design, unlike a lot of mouth mounts on the market. And, comfortable, stable, shake-free footage certainly makes it easy to pack.
3. CoCocina Surfing GoPro Mouth Mount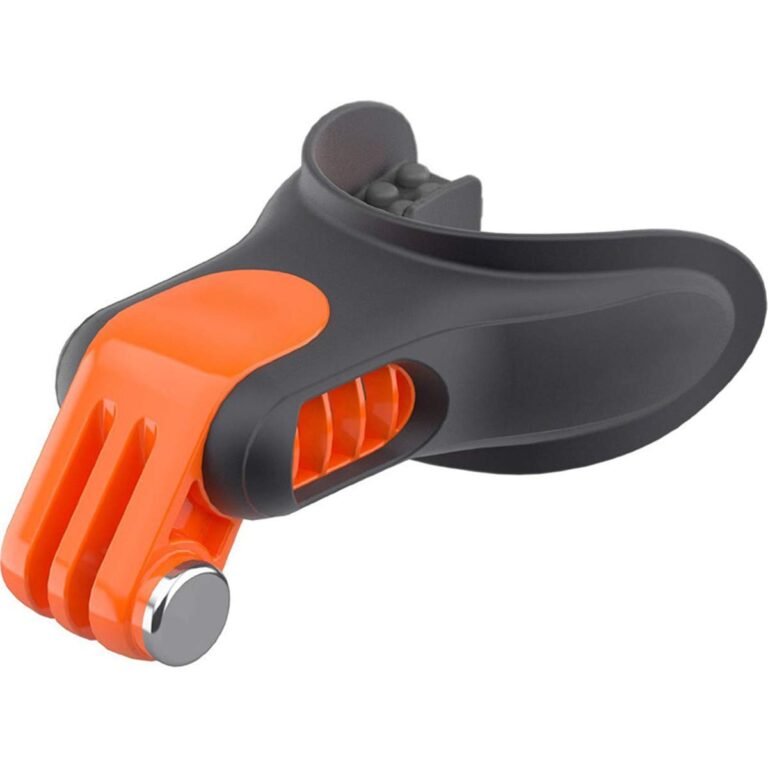 Why We Picked?
Of all the GoPro mouth mounts on this list, CoCocina offers great value in terms of pricing; whether you're surfing, climbing, kayaking, skating, or paddle boarding, you'll be able to capture exactly what you need.
And, you can capture the same stable POV footage here on the Cococina; without using your hands. That means perfect for water sports like surfing!
Finally, like all the best mouth mount for GoPro, it follows every head movement to picture all those barrels on your next surf trip.
4. Pro Standard Grill Mount 2. 0 Gopro Mouth Mount Surfing
The GoPro pro standard grill mount is a completely different approach to the mouth mount then we've seen up until this point up.
The pro standard grill mount actually uses a single piece of plastic that runs all the way back into the mouth and then coats the back pieces in a rubber.
What's really cool is that, what you bite onto in a rubber now is a same rubber that is used to make a mouth guard, so it's heat formable.
The final thing that makes the drill mount one of the best mouth mounts; surfers can seal their mouth when using it.
Why We Picked?
With most GoPro mouth mounts, there's a hole that allows you to breathe through the mouth when shooting. But with the grill mount that is not the case, there are no holes that mean to breathe you just only need to open your lips off of the plastic, and to seal it you just close your mouth.
This is really cool if you're surfing or kiteboarding which means if you fall off and crash, you just close your mouth and you don't end up with a mouthful of seawater.
But it's a lot more, by inserting it between the fingers on your hand and grabbing the mouthpiece; it's a great little handle for your GoPro camera and it's very comfortable to use.
With many amazing online reviews, this is the best GoPro mouth mount in terms of comfortability.
5. Ho Stevie! Premium GoPro Mouth Mount With Leash
How not to lose GoPro mouth mount?
If you have figured out your mouth mount, don't forget this best buy GoPro mouth mount with an armband leash.
With a simple but elegant design, this affordable GoPro mouthpiece will not only be safe and sound but also prevents disappearing your GoPro into the deep blue, so is great cool surf stuff too.
Finally, like all the best GoPro mouth mount surfing! it incorporates capturing the best POV while keeping the hands free for surfing, designed to stay secured to your arm.
A few things worth thinking about after buying this GoPro mouth mount leash for your surfing tour:
You'll want to install the GoPro mount mouth hands-free.
If your bite bails, you would wish to keep your GoPro safe with the armband leash.
It's a 2-in-1 product.
So What's next?
Thanks for reading our guide to the best GoPro mouth mount for surfing.
Like what you've read? Make sure you bookmark this page and pop back soon, we're constantly adding new product reviews.
Ready to read something else now? Check out our guide to the Best GoPro Mount For Skiing & Snowboarding.