Best Picnic Basket And Backpack For 4 Person | All Picnic Needs Right In A Single Basket
Note: This post contains affiliate links. If you use these links to buy something we may earn a little commission at no additional cost to you.
There comes a moment when everyone wants to recharge, enjoy among their favorite ones, and refresh in their favorite spot or places. Seriously! nothing better than eating a good meal under blue skies. Whether they are your family, friends, or someone special! you plan to take them to parks for a picnic or to a hill station. For a small get-together, a picnic set for 4 is adequately sufficient to accommodate.
For any event to make it memorable, you'll need the right accessories and kits to do the best picnic possible. Planning for the picnic of 4 too, there comes the basic equipment that needs to be sorted out; the best picnic basket for 4 in the market. It can easily settle the storage and management of needs like space to hold beverages, cutlery, barware, snacks, fruits, and many more.
The below listed are the best-selling 4-person picnic basket items, scanned best possible from the extensive research. Moreover, you can also go with the picnic backpacks for 4, if needed.

Also Read: 35+ Picnic Time Quotes And Captions To Post On Instagram
Honestly! why create trouble for yourself when you can have all your needs like flatware, dishes, napkins, and even a cutting board, appropriate in one remarkable basket and bag?
We have sorted out the best picnic basket set for 4 people for each possible category and the picnicking needs. Analyzing the ratings, reviews, and the buyers' experience – the below-listed options are the best picnic set for 4 to go with.
Enjoy your day in paradise!!
Our Top 8 Picks For Best Picnic Basket For 4
8 Best Picnic Set For 4 Person
A delicious meal deserves an exciting and spectacular picnic basket. For y'all, we have listed out the 8 best picnic baskets and picnic bag sets for 4, for every sort of outing.
Best Budget
Within a reasonable price, this is an awesome picnic set for 4!! Ceramic plates, stainless utensils, quality heavy plastic wine glasses, and well-built/sturdy.
It's not huge but it fits a bottle of wine, sandwiches, cheese, crackers/chips, plus it holds a blanket that comes included. Easy to carry it a couple of miles to get to a picnic spot!!!
Not just for Picnics, it also serves as a Breakfast, Lunch, and Dinner set for any Event.
Product Dimensions: 16 x 10 x 7 inches
Included with a waterproof picnic blanket
Newest And complete picnic set
Tied holding leather straps for accessories
Best Overall
Ascot Yorkshire picnic basket includes every tool needed for the event which includes: 8″ ceramic plates, wine glasses, stainless steel flatware, cotton napkins, an insulated food cooler, a corkscrew, a 50″ x 60″ blanket, a vacuum flask, and, coffee mugs.
The craftsmanship & convenience collects high rewards here. And along with the top-notch service set for 4, Picnic at Ascot Yorkshire Willow Picnic Basket becomes the best overall picnic basket on our list.
Besides picnic utility, it doesn't hesitate to surprise your friends and family as an engagement, wedding, anniversary, birthday, Christmas, or holiday gift!
Materials used are rattan & wicker
PICNIC at ASCOT USA ensures a lifetime warranty
A coffee set & food cooler is included additionally
Includes a premium picnic set for 4
Best Luxury
An awesome picnic basket for 4, with all the accessories, including a coffee set and blanket! Perfect picnic basket for family outings.
Top-notch quality 8″ ceramic plates, cotton napkins, glass wine glasses, high-quality stainless steel flatware, and salt and pepper shakers are covered. Plus, includes a hardwood cutting board, wine holder, insulated cooler for food, and, vacuum flask.
Definitely on the pricey side however the quality of the product is absolutely superior.
If you care about maintaining superior social status, it would be worth spending a bit extra for the great quality.
The material used is willow
Designed in quality HEIRLOOM style
Includes premium set of services for 4
PICNIC at ASCOT assures a lifetime warranty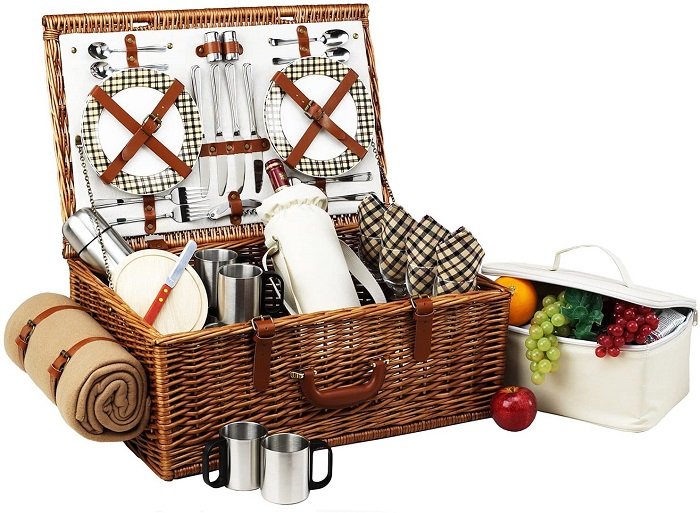 Best Picnic Backpack For 4
This picnic backpack set for 4 would be a perfect pick for a small family. Lightweight and almost everything fit perfectly inside it.
The best part is that it's a backpack, which is great to keep your hands free when carrying a kayak, picnic supplies, etc.
The accessories included in the box are 4x forks, 4x cotton napkins, 4x knives, 4x 9″ dinner plates, 1x butter knife, 4x spoons, 1x bottle opener, 4x plastic wine glasses, and more.
Product material: Polyester
Set for 4 with a cooler compartment
Includes large picnic blanket(45″x 53″)
50 days free exchange and returns policy + 185 days warranty
Best Picnic Backpack Alternative
This picnic backpack for 4 is great for families and comes complete with every imaginable picnic accessory.
Not only perfect for a picnic but also this picnic backpack is great for hiking and short trip as well.
It has everything you need to set the move with someone special. It is very stylish and has a well-organized interior. Also, the accessories are made with good material which can be washed and reused many times.
Inside the backpack, you will get everything for a perfect picnic set for 4 which includes; 4 x stainless steel knives, 4 x stainless steel forks, 4 x stainless steel spoon, 4 x dinner plates, 4 x wine glasses, 4 x cotton napkins, 2 x salt, and pepper shakers, 1x cheese knife and a plastic chopping board,
Includes 2 cooler compartment
Cutlery set for 4 person
Large storage capacity almost holds 25L of loading capacity
Leak-proof cooler backpack
Very comfortable to wear on back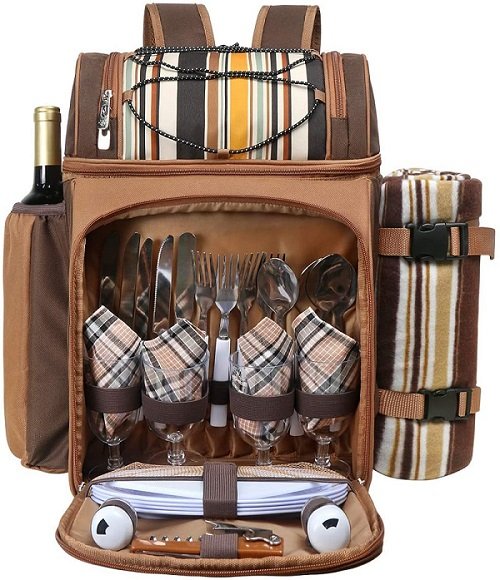 Best Traditional Style
Nicely furnished with superb craftsmanship, it is perfect for the occasion.
Includes a picnic set with 9″ melamine plates, matching cotton napkins, glass wine glasses, stainless steel flatware, and a corkscrew.
If you prefer a classical and as well as appealing picnic basket at a reasonable price, then Ascot Settler 4-person picnic basket would be my go-to advice.
The material used is wood SLA
Includes a complete picnic set for 4
Has a vintage appearance
Best Design
You would be surprised at every zipper you open on this picnic backpack for 4 people! You can store almost all the tools that you need for the picnic with ONE SINGLE purchase!
It contains so many tools: plates, knives, forks, cups, napkins and, even a cutting board! all of these fit in such a small space!
Planning to go on a long walk? Pack some water, a frisbee, and a bottle of wine, and make a day of it.
In comparison to other picks, this backpack is much more durable and well-designed.
The material used is nylon fabric
Blanket with waterproof backing
Includes insulated wine holder
Top-quality stainless steel flatware
The pretty large insulated food section
Best Handcrafted
Made skillfully by hand with an appealing design, it is a basket out of fairy tale stories.
The basket grips solid and is large enough to hold everything you need for a picnic.
The cooler and matching wine sleeves are excellent, they're covered in a very tasteful cream canvas fabric and are well-made and sturdy for travel use.
Tools included in this picnic basket for 4 are napkins, flatware, plates, a corkscrew, a pepper and salt shaker, a cheese knife, a food cooler, a cutting board, a wine bottle bag, and wine glasses.
Manufactured using full reed willow
Item dimensions is 22 x 15 x 17.5 inches
Also includes an insulated cooler for food
Handcrafted in a premium way along with genuine leather straps
Bonus Tip For Picnic Gear List
This bag has all you need for any chance of a type of picnic that includes drinks or any beverages. This wine bag is our favorite option to get right now.
Best For Wine
An important aid for outdoor fun activities which refines up the charm of any event.
It is well insulated, has a very strong handle, and has solid craftsmanship when it comes to the outer material stitching.
You will be pleased to find this to be a sturdy bag for storing and transporting wine to share with friends and relatives on a picnic day. It can be zipped closed where handles are web with "leather " grips and is very comfortable for carrying a fully loaded bag.
Well made and is adequately padded for any outdoor picnic and travel.
The material used is polyester & polyester blend
4 wine carrier pockets
Convenient & easy storage
Thick cushioning secures the wine bottles from clanging together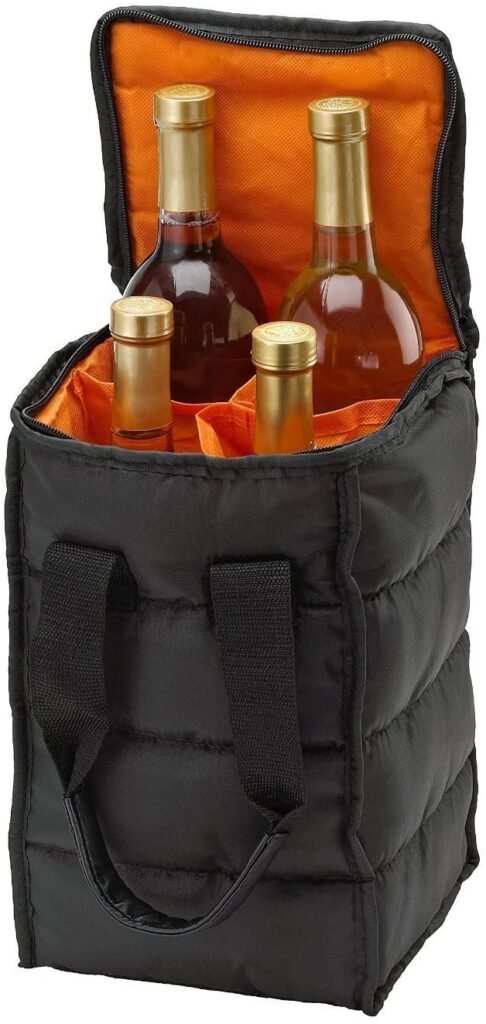 Final Verdict
The best picnic basket is the Yorkshire Willow 4-Person Picnic Basket(view on Amazon). It might seem vintage and functional as a traditional picnic basket, but it's much more worthy in terms of quality too. Besides picnic utility, it can also be used as a gift idea to get appreciated!
For a budget option, CALIFORNIA Picnic Basket For 4 Person (view on Amazon) is the best item to go with.