Best Places To Visit In Dubai, UAE
The end of the year and the beginning of the new one are best experienced in one of the world's most visionary cities, Dubai. The excitement in Dubai is at an all-time high, with exciting events like Christmas and the Dubai Festival in full swing. Dubai, one of the seven emirates of the United Arab Emirates, is unquestionably the entertainment capital of the Middle East. There is a wide range of activities available here, from record-breaking attractions to incredible shopping and dining experiences. If you are planning a trip to Dubai now or in the near future, here are some places you should not miss visiting.
Burj Khalifa
The Burj Khalifa, which has come to symbolise the city, is a must-see for any visitor to Dubai. Going up to this tower to see the view from all vantage points is worthwhile because when you look down, you appear to be on top of the world! The 'At the Top Burj Khalifa' – observation deck experience offers an unrivalled view of everything that makes this city special and unique, from the vast glistening cityscape to the glittering lights of the Dubai Fountain right at its foot, putting on a dazzling spectacle. It's also the only place on the planet where you can watch the sun setting twice in a single day.
---
Dubai Mall
Though many malls have opened in Dubai over the years, none have come close to ousting Dubai Mall as the city's premier shopping destination. Dubai Mall is one of the most popular shopping destinations in the Middle East, with 1200 outlets which include luxury brands such as Chanel, Dior, Dolce & Gabbana, Elie Saab, and Louis Vuitton, among others, as well as some fantastic restaurants serving some delectable food and treats.
That's not all, it also has a stellar aquarium, a giant ice rink, a mini city for kids, and the first-ever virtual reality park in the Middle East. The mall is the largest in the world, and it is said that no matter how many times you visit it, you will lose your way and become lost in it.
---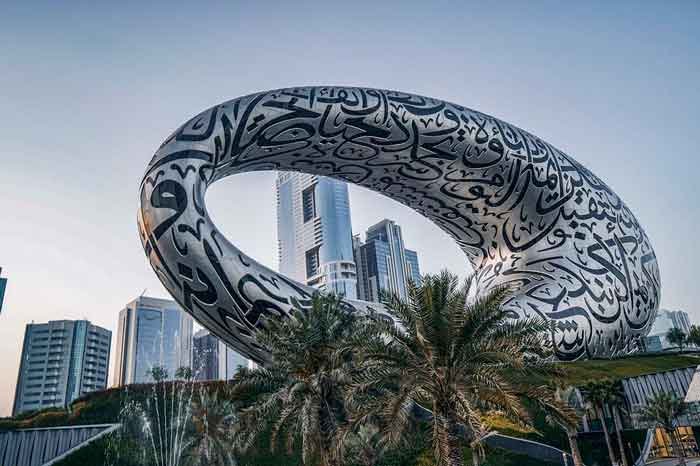 Museum of the Future
This museum is the place where visitors get a peek into state-of-the-art technology and how it will impact our lives in the future. It is the first-ever museum designed to inspire people with its interactive exhibits and displays. This oval-shaped metallic museum boasted as the most beautiful structure in the world is located at Sheikh Zayed Road and features interactive exhibits, 3D films, holograms, and virtual reality experiences.
Museum of the Future's sheer stellar architecture along with the technological experiences in space and biotechnology makes it an ideal spot for family, friends, and kids to learn something as well as have a great time together.
---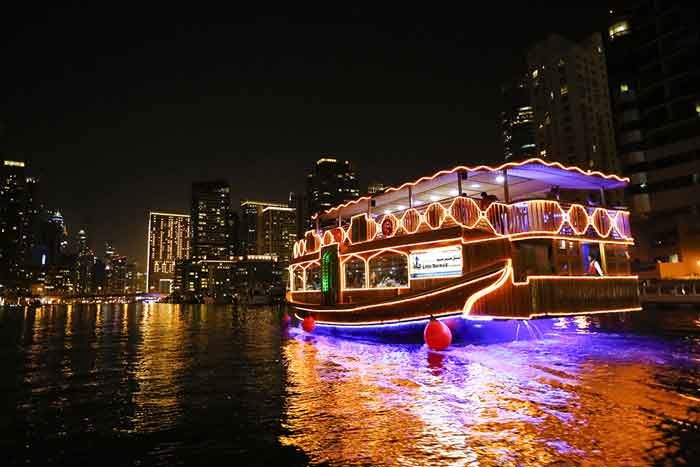 Dhow Cruise Dubai Creek
A cruise down Dubai Creek is one of the most popular ways to get acquainted with Old Dubai in a short time. This cruise takes you through some of the most spectacular sights of Dubai's Old World charm as it travels along Dubai Creek's coastline. This tranquil boat ride around Dubai Creek in a traditional wooden boat is a classic Dubai attraction. Evening dinner cruises are ideal for taking in the mellowed beauty of the shorelines while feasting on a lavish buffet spread of eclectic dishes.
The dhow cruise dinner ride lasts approximately 90 minutes and costs roughly AED 65 per person. Spend the day at Al Fahidi Historical Neighbourhood before embarking on this cruise to get a sense of Dubai's Bedouin times. The cruise will be sincerely valued and will complete an experience that will undoubtedly be one of the most memorable days spent in the emirate.
---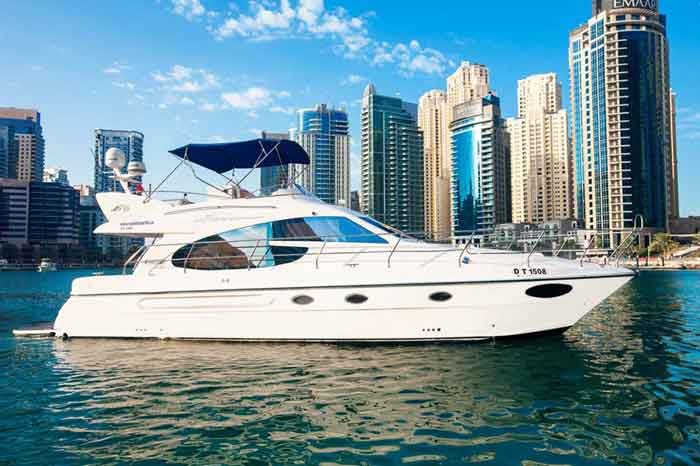 Dubai Marina Yacht Ride
The Dubai Marina Yacht ride is another popular attraction for visitors to enjoy when they travel to Dubai. This yacht ride experience allows guests to see some of Dubai Marina's most famous landmarks from the comfort of an elegant yacht.
You can book a Luxury Yacht Rental Dubai experience for a few hours, enjoy a gorgeous sunset view, or delve into a sumptuous dinner onboard a sleek and spacious mega yacht while relaxing in opulence. It is the ideal way to see Dubai's incredible sights in sophistication and style.
---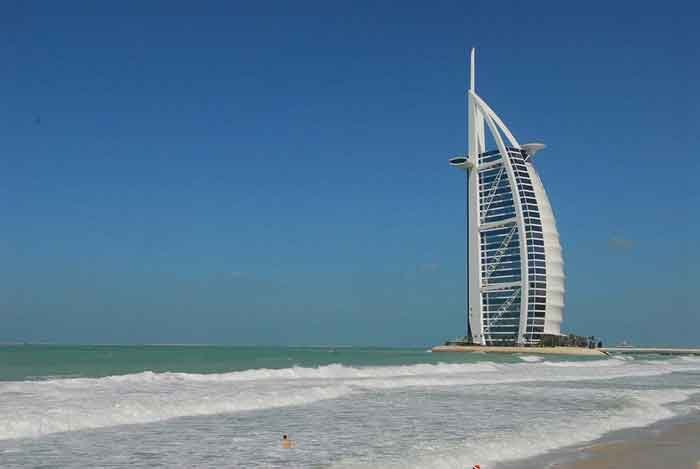 Burj Al Arab
One of the places that instantly put Dubai on the world map as a luxury destination was the unveiling of Burj Al Arab. Classified as the most luxurious hotel in the world, the iconic billowing sail-shaped structure is known for using gold leaves in a lot of elements as well as for its posh and hospitality service. Now you do not need to book a stay in the Burj Al Arab to explore the magnificent, one and only 7-star hotel in the world. Book an Inside Burj Al Arab guided tour for exclusive access to the hotel and to enjoy the hotel's interiors and views.
If you want to get a better sense of the poshness and hospitality of this ultra-chic Dubai hotel, combine your tour with a reservation for an Afternoon High Tea at Sahn Eddar, where you can enjoy an eclectic selection of sandwiches and treats while taking in the gorgeous scenery of Persian Gulf.
---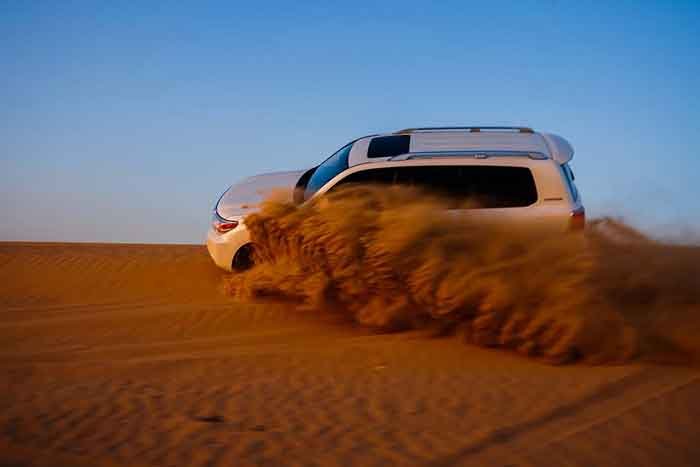 Dubai Desert Safari
The Arabian desert is a must-visit destination for anyone who loves nature and adventure. It is one of the best ways to try an off-beaten excursion from the glitzy modern Dubai city and zoom off into an expanse of golden dunes which doubles up as an exciting playground for desert sports adventures. If you have a strong stomach, buckle up and hold on tight for a sand dunes rollercoaster ride with dune bashing experiences.
If you loved that and want more control over manoeuvring on the undulating dunes, sign up for a quad biking ride. Those who aren't into high-adrenaline activities can try camel rides and sandboarding. Stay back to watch a beautiful desert sunset and end your day in the desert with a delicious traditional BBQ dinner and Arabian folklore.
---
Dubai Miracle Garden
Dubai Miracle Garden, a seasonal attraction bursting with vibrant flora blooms, is one of the most popular places to visit in Dubai during the cooler months. It is the most picturesque and fragrant natural haven in the Middle East, with over 50 million flowers in full bloom from October to March. Step into a world where trellis and bushes of floral blossoms cover everything, including castles, villas, and even an Airbus!
The world's largest natural flower garden features a variety of floral displays that create a riot of colour and aroma, including a floral clock, sunflower fields, a smurf village, and much more! Some displays change seasonally to provide a unique experience each time you visit. The park is only open until March, after which it closes for maintenance and reopens in October of the following year.
Conclusion
Dubai is one of the Middle East's most popular tourist destinations. It is a city that combines glitz and glamour with ancient traditions and culture. There is so much more to this city than meets the eye, from its opulent architectural marvels to its vibrant night vistas and sheer variety of things to do.
The above-mentioned places and experiences are the most notable ones that should be included in a Dubai itinerary for an unforgettable visit to the emirate.