Easily Stay In shape with help of these Portable Exercise Equipments On Your Own
Note: This post contains affiliate links. If you use these links to buy something we may earn a little commission at no additional cost to you.
Finding the best portable exercise equipment for travel is, seriously, no small feat. Cool !! So to make your life easier, which happens so rarely, comes this list. You can see most of the travel exercise equipment in action and after you will find additional info on the workout routines associated with these babies.
You may be surprised but all of this exercise equipment that you can find at home or in any gym can be made portable.
There is plenty of effective and best portable exercise equipment and workout machines out there for you to take along on travel with you.
More often, it's always a good idea if you can choose your affordable type of portable travel gym equipment according to your exercise routine and the places where you spend most of your time.
Portable Fitness Equipment Ideas
In today's date, several portable products for equipment and workout types are on the go. It may seem a little overwhelming if you just do an internet search on it, but we can help you sort through it all.
Here are some ideas to get you started on your search for the perfect travel workout equipment. You may need more than one item or equipment set, depending on your preferred goals and needs.
What To Consider When Buying Travel Fitness Equipment?
The fitness industry has come up with many options for fitness equipment for travel. That means you have choices, which is good, but it can also seem a little overwhelming.
You need to look at factors to consider for choosing the right travel equipment for your next trip.
11 Smart and Best Portable Exercise Equipment For Travel That Can Be Folded In The Bag
 A lot of travelers refresh their minds and body by incorporating yoga into their routine and making yoga part of their travels.
If you don't want to miss out on your yoga practice wherever you may be, traveling with a yoga mat is the best solution.
But when you're a traveler, it becomes a challenge since you'll need enough space to pack it up.
Yoga can easily be that physical activity to stick to when traveling. Have you already invested in a portable yoga mat? If not, this is definitely the right piece to invest in.
The jumping rope is the cheapest and one of the most effective travel workout equipment that can be bought by everyone.
The jump rope is a fit traveler's best friend. Jumping rope comes with a ton of benefits for travelers looking to stay fit and healthy while they're on the road.
From the low cost to the small size, a jump rope can and should be in every traveler's bag. You may think this matters little because you no longer play sports but don't forget that we are all athletes.
Easily affordable and the best portable exercise equipment to install in your backpack with huge benefits.
If exercising is important to you and you absolutely can not miss a workout.
Install this creative travel gym equipment even when traveling for business or vacation.
These water-filled dumbbells could be the solution to your worry about being out of shape.
Water dumbells are not only affordable but also very practical and super easy to take along in a small bag just about anywhere. when it comes to portability and travel, see if they may be the right fit for you.
They are totally portable and collapsible fitness solutions for any backpacker on the go.
It's tough to maintain a fitness routine when you're on the go and don't have access to a gym. Seriously, you'd be amazed at how many different things you can do with a small portable fitness band of rubber.
The best part of this resistance band praise is that they're perfect for traveling.
They're small and light, meaning you can pack them in your carry-on and take them with you on the road.
Whether you are in a hotel room, on a long-haul flight, or even preparing for a competitive event, resistance bands are the perfect companion to help you keep fit throughout the travel.
If you like to do perfect push-ups at home, in a hotel, or even in the great outdoors.
This little portable fitness equipment will encourage you to really pump on your exercise routine anywhere often it benefits targeting different muscles while doing pushups.
The Push-up handles give you an awesome upper body workout including all other kinds, your rotator cuff and they are also incredibly safe for use on plenty of surfaces.
These innovative rotating handles are a great way to help you push harder.
Building a superhuman handshake requires more than just a few wrist exercises to be included in your workout. Everything fits nicely in the bag which is convenient.
Fit for small and large hands, seniors and teens.
The strength of your hands, fingers, wrists, elbows, and forearms can be improved by using the kit.
We recommend this tiny travel fitness equipment to all the OCR racers and those in the gym who want a stronger grip for a better lift.
Bringing a ball with you is a great way to add some variation to your travel workouts, and just like a suspension trainer, you can use the stability ball in most hotel rooms, parks, and wherever.
You're probably familiar with the giant exercise balls that have taken the fitness industry by storm.
You can use the surface for push-ups, sit-ups, squats, leg lifts, and bridges.
When you're done with the workout, sit your butt on the ball, grab on and start bouncing around your hotel room! Guaranteed it'll make you sweat and laughter is one of the best exercises out there.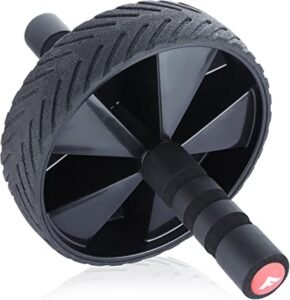 With the ability to be taken apart, this portable ab wheel is the perfect lightweight travel workout equipment to take with you on the go.
Not only is it small and easily transportable – it also has many features that facilitate a great workout.
This ab wheel is a great addition to any athlete's workout routine that won't break the bank.
You can use this several times a week anyone and at any place (but not every day to allow for recovery) is a great way to improve core strength.
Not only will you be able to do a full-body workout, get some muscle and strength building.
You'll also be able to get a good cardiovascular workout as well.
Resistance bands are versatile and you can literally throw them in a bag and take them with you if you ever need a quick workout when you're at your home away from home.
I definitely would not hesitate to recommend this to people who want to start something from home without the bulk, travel a lot, and simply want a different type of equipment for working out.
If you travel frequently or lead a busy lifestyle and can't get to the gym, a portable home gym may be the solution.
They're primarily designed for frequent travelers or those users that cannot always train in a gym or at home.
A portable gym can work as long as you can do the exercises you need to.
Anyone from a fitness enthusiast, to a marathon runner, dancer, bodybuilder, or couch-to-5k can utilize this outstanding portable workout equipment. 
Easy to set up Portable comes with a storage bag that everything fits into. This is a good device where one can work out different muscle groups and be able to avoid gyms due to covid-19 concerns.
There are multiple attachments where you can do movements for individual arms like a dumbbell and a bar where you can use both arms together.
It's portable. Once folded, it fits easily under the bed or exported to any place. There are many levels of fitness for this board. It is easy to use!
If you're looking for a compact workout at home or to make it as travel go. At an affordable price, give this a shot.
Is it worth buying portable exercise equipment?
When it comes to portable fitness devices you can actually use them everywhere where you can take them.
Such equipment needs less space than in a regular gym and some appliances can fit your carry-on bag.
The cherry on the top perk– keeping your fitness schedule non-ripped, only a portable fitness kit or single exercise piece can be used and taken everywhere along with its owner.
Having portable fitness equipment in your bag or in the back of your car is good for your motivation in case you constantly have to be motivated for daily exercise on a daily basis.
Final thoughts
 Pumped with fitness equipment ideas for travel? Without any disruption of your dopamine, get along with these above-listed babies to be the game-changer of your life.
Not only, but Portable gym fitness equipment also provides ultimate convenience because it can be set up in any available room, and take up minimal space.
But also, Portable exercise equipment can be used while enjoying the privacy and comfort of your own lovable place. These gym equipment are easily customizable, having control over when you work out on your schedule (ie no working out at 7 am independently).
You can make your life however you want it, according to your preference and choice. Going through the above-listed equipment will definitely help you to keep a compelling scoreboard.