Beautiful Bhagirath Waterfall Near Mumbai | one day picnic spot
Are you looking to spend some quality time with your partner, family, or friends in peacefulness? Then Bhagirath Waterfall is the best one-day picnic spot near Mumbai for you during the rainy season. 
This spot is not well known when compared to other waterfalls in Mumbai. Furthermore, it is labeled quite unfamous because the location is even unexplored by most of the expected Mumbaikars.
Despite that, particularly for people from Mumbai visiting Vangani Falls is considered one of the best one-day picnic tourist places, especially during the monsoon.
Take your time off and cherish the beautiful cloudy atmosphere and refreshing green landscape in between the hills.
Exploring the Waterfall offers you 15-20 minutes of an adventurous trek to reach the Bhagirath waterfall.
How To Reach Vangani Waterfall?
By Train
Get board on Karjat Train with the help of m-indicator if necessary.
Get down at Vangani station just after Badlapur station, which is 10 km from Neral (it is in transit to Matheran).
Take an autorickshaw just outside the Vangani East railway station which will drop you near the spot.
It will cost you on average Rs.20 per seat to lead you up to the hill so far.
By Road
You need to take the Airoli-Shilphata-Badlapur MIDC route to arrive at Vangani.
Several other waterfalls and also Chanderi Fort is on the way. The Fort can be seen in between the hills if noticed.
In the monsoon, you will observe a beautiful view of green farm fields throughout the road.  Arriving at the base, hike nearby for 20 minutes to reach the Bhagirath waterfall.
Quick Pre-Departure tips you need
Don't have a planned trip yet? Matter of fact, it's fine to have some butterflies in your stomach to get worried and nervous about planning your trip.
Before going to the intended destinations, it's always a great idea to set your goals and objectives to stick to throughout your journey.
Start your trip early to avoid crowds.
Research climate and pack accordingly (try not to over-pack!)
Have a good breakfast at the station itself or carry your own food because there might be no food stalls available near the waterfall.
Considering its monsoon, take Backpack cover, raincoats and umbrellas if you do not prefer getting wet on the overall trip.
Most important, safeguard your cell phone by using a waterproof phone pouch.
What to plan for going on the Vangani waterfall trip?
Location: 63 km away from Mumbai (2 km from Vangani Station in the East).
Best time to visit: Monsoon
Opening hours: 24 hours
Entry fee: No entry fee
List Of Things To Do in Bhagirath Waterfall Vangani
1) Adventurous Short Trek
You need to get off the autorickshaw or your personal vehicle at the base of the hill.
The trek starts from the base of the village and it takes about 20 minutes to reach the Bhagirath waterfall.
You will get encountered many small streams of water hiking towards the Vangani main waterfall.
The trek is easy and very picturesque.
But you need to be careful during the hike if it's raining. Because of the narrow way which further gets tricky and slippery on monsoon.
2) Get Refreshed With Green Vegetation
Does Bhagirath Waterfall gets crowded like most other traveling places? The answer is NO, this trip favors you enough peace and calmness.
Traveling on the road, Paddy farms on both sides encompassing Bedisgaon will recreate the vibes of your regional home zone, especially if you are from the village sector.
In the monsoon, a trip to Vangani stays always ready to welcome you with its green-bloomed beauty and cloudy top hills.
Narrow paths surrounded by Teakwood trees create a dense walkthrough to the top of the Bhagirath Waterfall.
The green color in the paddy field seems light green with a smooth and silky surface whereas the greenery in the hills appears in a shade of blackish green. The farmlands appeared as if they were wearing a bottle of green Kanjeevaram silk saree.
3) Go Rowdy Showering at the waterfall
Seeing or hearing the soothing sounds of moving water will trigger you a relaxing response in your brain. The burble of the waterfall masks distracting noise and calms your brain. Weird, isn't it?
That's the kick !! Eagerly you are searching for, after arranging the vacay from your rush working life.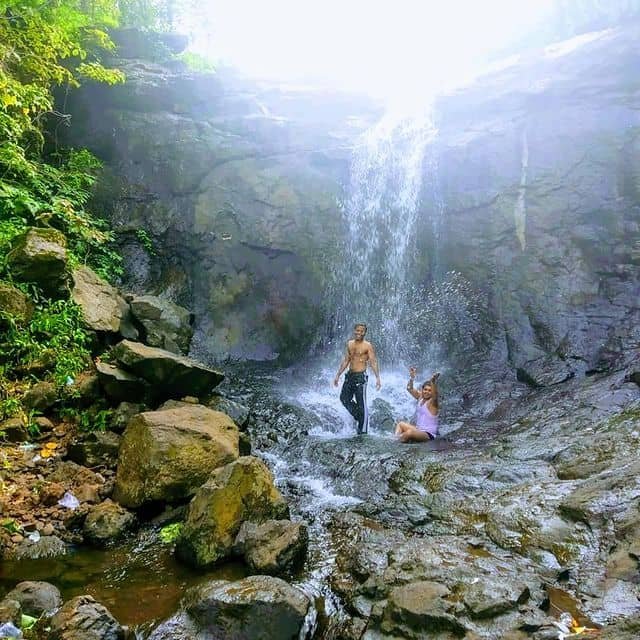 Going wild into the beautifully gushing waterfall, free downpouring clear water, you can shower enjoying yourself with your friends, families, and colleagues.
Just make sure to be careful of the slippery rocks and paths.
Vangani waterfall is worth a watch, especially for monsoon lovers, due to the safe environment, scenic beauty, and local areas free of waste and garbage.
The view from the hilltop of the waterfall displays the absolute valley full of greenery. 
4) One-day picnic spot
Don't we all really love Waterfalls and hills?
Every individual needs to fuel up and recharge once in a while after a long work weekend. A simple, one-day picnic spot near Mumbai will throw out all your stress by breathing in the cool and fresh air of the mountains.
Explore the beauty of nature, moreover eating food while sitting out in the calming afternoons and refreshing waterfall breeze, Just imagine having such a nice picnic with your close ones?
Picnic activities you can include are singing songs, chattering with your friends, eating food, drinking beverages, and so on. Bring out the child in you and let your mind relax.
5) Run Free On The Green Grassland
Got surprised to know about the grasslands?  Believe me, you will be stunned by the view of its natural beauty and greenery around the Vangani waterfall.
Heading right above the waterfall, trekking a few minutes uphill you will encounter extended flat grassland where one-day picnic spot near Mumbai is well possible.
Adding this major attraction with other waterfall tourism activities makes Vangani Waterfall, one of the best waterfalls near Mumbai for families.
6) Cherish Bedisgaon Village View
On a good day, the beautiful view of green farms during rain looks charming, alongside various small water streams flowing together to reach the farms look insane.
The whole village site including the faded perspective of the faraway buildings, combine to energize you for a thrilling experience.
7) Try-out Waterfall Tourism Activities
Various interesting outdoor activities which include nature and adventure camps are performed at this fall on weekends.
And if you wish to try rock climbing and water rappelling near Mumbai, then the underdog Vangani Fall is one of the best choices.
You can travel to Vangani waterfall with your friends privately, a fun-filled trip with hardly any crowd.
8) Get a glimpse of the Bhagirath Dam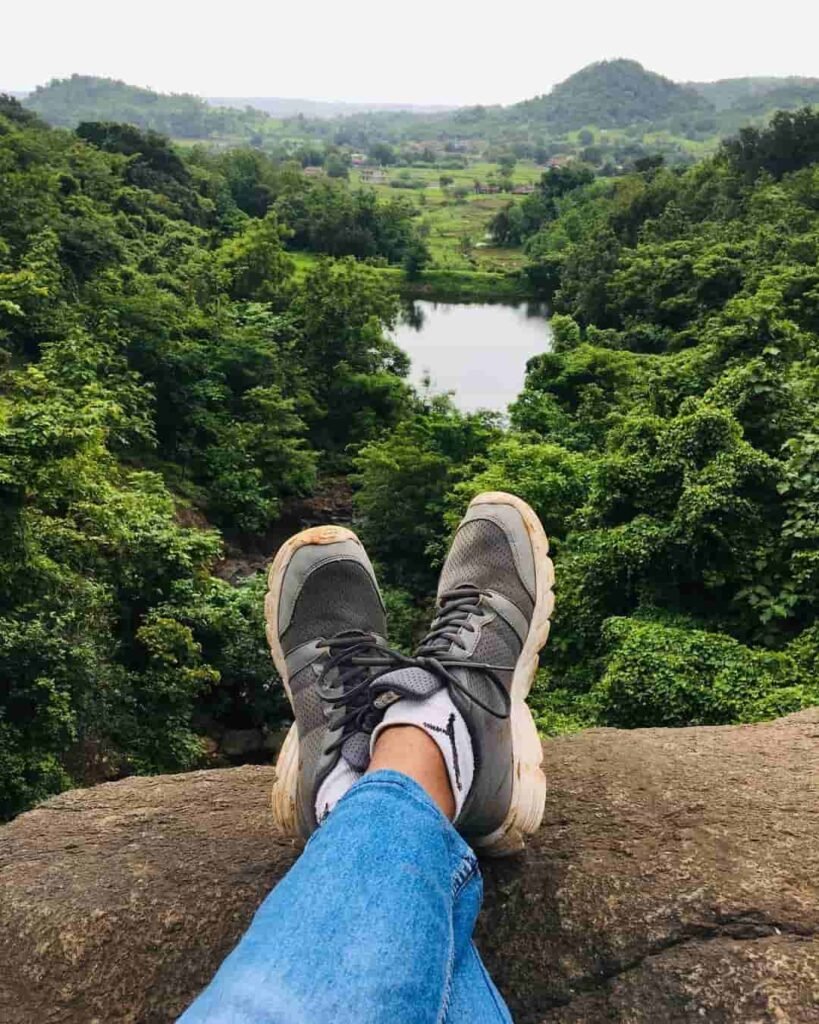 No hustle or bustle, easily visit Bhagirath Dam.
Every time people visit the Waterfall includes also visit the dam nearly situated at the base of Vangani (Bhagirath) Waterfall.
As a tourist attraction,  especially during monsoon rains, Bhagirath Dam was built with the purpose to fascinate the coming visitors.
Frequently asked questions
Is there any other name for Bhagirath Waterfall?
Oh! Yes. It is also known as Vangani waterfalls and Bedisgaon waterfall.
Do I need a permit?
No, not yet. The entry fee is totally free.
How to reach there?
You can hire an autorickshaw from Vangani station East which will take around 20 minutes to get there.
Can I trek traveling to Vangani waterfall?
The answer is YES. It's around 20 minute adventurous trek to reach the waterfall.
Is a picnic possible at Vangani Waterfall?
Of course! you can include activities such as singing songs, chattering with your friends, eating food, drinking beverages, and so on.
List Of Best Waterfalls In Mumbai
Malshej Ghat Falls
Chinchoti Waterfall
Pandavkada Fall, Khargar
Chinaman fall, Mahabaleshwar
bhivpuri waterfall
Vajrai Falls
Umbrella Falls
Kune Waterfalls, Khandala
Thoseghar Falls