Oyo Rooms For Unmarried Couples (Minimum Age Limit, Documents Required + Hotel Rules)
Note: The information is provided for general information purposes only. All information on the site is provided in good faith. And also you may be sent through the site to other websites or content.
Are you looking for cheaper, safe, and more secure hotels? If yes, then you are in the perfect place to figure out, Whether Oyo is safe or not. Or, Are Oyo rooms safe for unmarried couples? on and on with many more likewise questions in this blog post very soon. The Oyo couple-friendly feature made the provision to provide Oyo rooms for unmarried couples.
Providing value and privacy to their customers is Oyo's main motive following some terms and Oyo age limit for couples. It's up to you "whether you choose, Oyo rooms for unmarried couples or any other hotels" to spend a great time with your partner safely and securely.
The only time hotels face criticism upon unmarried couples walking in is when society does not allow it. This only comes when doing so is taboo.
Maybe because of this judgemental pressure and the norms of society, many fear checking in nearby hotels for unmarried couples. Despite all these, there are always ways to make it happen legally (for sure). Not all hotels, most Oyo couple-friendly hotels allow unmarried couples to stay together in one room. Because no law prohibits unmarried couples from booking and staying in one room.
When it comes to safety and privacy, OYO hotels have all rooms.
Oyo Is Safe Or Not?
Oyo rooms are safe and you won't be finding any hidden cameras there. Despite all, if you doubt and claim hesitancy in your mind like; Oyo is safe or not? Is Oyo rooms safe for unmarried couples?
No Worries, we have some more to offer you for your solid confirmation of privacy and safety. (Down below on quoted box)
People might criticize those who had been confined to some bad experience just because of the negligence of "Basic guest terms and conditions". A huge volume of excellent reviews from guests is calculated with the ongoing time from the past few years.
The OYO rooms are completely safe and secure – we do the necessary checks and quality assurance before partnering with any hotel. Also, the staff is fully trained at our pocket-friendly living spaces and we make sure your journey with us is worth and comfortable.

We also do not share the information about our guests' stay with anyone and your privacy is assured. We encourage you to reach our privacy policy before submitting your details to understand how your information is handled and shared.
Source: https://www.oyorooms.com/terms/
If you are wondering to spend some quality time with your loved one and also had any ideas to spend some nights together without any interference and disturbances. The first go-to tip for any couple would be the best to book nearby Oyo rooms holding the best guest reviews. We are aware that how people easily get stuck in some MMS or scams.
Note: 3 things that you would love to cherish about OYO,
Its value-for-money proposition
Its no-nonsense operation policy
And its guest's safety
How Safe Is Oyo Rooms For Couples?
The main privilege highlighted for the couples is that "the staff will not look at you with those questionable eyes at OYO rooms", which might appear in other places.
Oyo rooms are couple friendly because they value their customers more than their marital status. Without any doubt, you can plan to book nearby Oyo rooms with no hesitation.
For that reason also, Oyo rooms are easy, and safe, and are considered a reliable means of hotel booking service for the last few years. If you have proper Identity proof and both of you are adults, then there will be no problem accommodating the hotel stay.
But Wait There's Something More For Unmarried Couples!
It is always a better idea to contact reception before and check with them whether unmarried couples are allowed or not. And if that's the problem, feel free to contact Oyo customer care and sure they will understand your situation and will help you at their best.
Oyo allows unmarried couples to take hotels in their local city. But it's up to you which hotel you choose for the unmarried couples section. Please check the map before booking the Oyo rooms, the hotel should be on the main road and the main thing to be careful of is that the hotel should be near a good locality. If some bucks can safeguard you then why not spend some more bucks?
However, in small cities sometimes they create a mess about unmarried couples.
In Oyo Rooms Relationship Mode, you get to see only those listed hotels that welcome unmarried couples. Without any hassles, those filtered hotels allow rooms for couples after verification of the identification proofs for the reservation.
Oyo rooms are safe and easy to locate via Oyo App and it's an official website but also, just go through the basic requirements and guest terms and conditions while booking nearby Oyo rooms.
How Much Is The Oyo Age Limit For Couples?

Oyo hotels follow their own set of particular rules and oyo age limits for couples which one must have to fit in their specific guidelines for the eligibility to use.
Documents Required To Book Oyo Rooms
Just carry your ID card with address proof and simply activate the 'Relationship Mode' on the OYO App or select the 'OYO welcomes couples' filter on the website for preferable options.
This also falls under the category of hotel-specific policy where hotels may deny check-in to guests providing ID proof of the same city as the hotel itself.
Therefore, it is extremely important to see the information regarding unmarried couples and local IDS on the website before booking the hotel. As long as you have followed these steps there is absolutely nothing to worry about!
Risk Of Police Raid In Oyo Rooms ?
There is nothing one should worry about because all the hotels that have partnered with OYO are "crossed checked and verified".
However, yes this is the first thing that comes to anyone's mind while booking his/her stay with any hotel whether it is OYO rooms or any other, especially when you have your better half along with you.
Oyo Hotels and Homes delivered a statement that;
The police are there to ensure the safety of each and every individual and to maintain the law and order. If there is any illegal activity being carried out, police have every right to intervene as per the law. However, that doesn't mean the couples cannot stay in rooms.
You got the answers to the queries like; oyo is safe or not? Is oyo safe for couples? Is oyo safe for unmarried couples? Oyo rooms for unmarried couples is safe or not? on and on. Now, let's head onto some convenient methods to book Oyo rooms step by step.
Best 3 Ways To Book Oyo Rooms
Considering the convenience, Hotel booking for Oyo rooms can be done in three different ways, each one of them listed below along with their step-by-step booking methods.
1. Booking Oyo rooms from Official website
| | |
| --- | --- |
| Step1 | First, open Oyo's official website |
| Step2 | Apply the required filter and make a hotel search |
| Step3 | Insert the required dates and number of the total guest members of the stay, and enter the search button |
| Step4 | Choose the hotel rooms compatible with your location, budget, and convenience |
| Step5 | Enroll name, phone number, and email address for the payment |
| Step6 | You can make the payment online itself or you can pay later, after reaching the hotel for the stay |
| Step7 | If you prefer paying online, continue forward for the full and successful transaction |
To make a booking easy, the guest can choose the preferred filter according to the required type of Oyo rooms for the stay.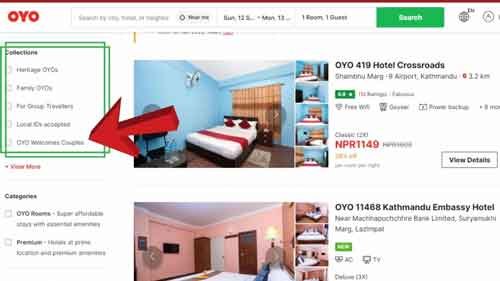 Just browse the Oyo couple friendly category and book a hotel that is convenient for you. Or, you could always call up customer care and ask them to book you a room at a Premium Hotel, mentioning the fact that you will be staying with your partner and that you are unmarried. That way they will be able to give you a list of options and won't create a problem in letting unmarried couples stay.
Look at the reviews of guests about the hotel before booking a room. Find the hotel with the best reviews. And always go to hotels which you find best, even if they cost a little more than other hotels.
2. Booking Oyo rooms from Oyo App
| | |
| --- | --- |
| Step1 | Download the official Oyo rooms app |
| Step2 | Do sign in to the App |
| Step3 | Then explore the best hotels according to your preferred location |
| Step4 | Insert the required dates + number of the total guest members of the stay and then proceed |
| Step5 | Several hotel lists will be displayed according to your search |
| Step6 | Pick the hotel which you feel is compatible, secure, and good |
| Step7 | At last, make the payment online itself or you can pay later, after reaching the hotel for the stay |
3. Booking through Oyo rooms Customer Care
Besides Oyo's official App and website, you can also book an Oyo hotel room with a simple phone call by calling on the Oyo customer care contact number.
All you need is to contact the Oyo rooms representative and request them to make a booking according to your specifications on the basis of location, funds, and days for the homestay. In response to that, the representative will offer you with best options, where you can make a successful reservation of Oyo rooms just by just a simple call.
For the follow-up, you will have to give your email details so that you can get confirmed with your Oyo room booking. Once they are done, you will be notified via SMS by your phone.
Suggestions If You Are About To Use OYO Rooms
Check your room entirely once you enter the room
Check your room interiors like bathroom window and exhaust fan, there might be a hidden camera
Negotiate with the receptionist if the room is interconnected.
Once you check-in in the room, turn off all lights and close all the curtains. Check if any light seems visible or not, Who knows? you may find the hidden CAMERA.
There are possibly lots of places where the hidden cameras can be placed, you can check on the internet, how to check the hidden camera in the room. you will come to know with so many ideas.
And most important part, appear gentle and be humble with the hotel staff. Just remember, you have many more to lose if something happens wrong accidentally.
Oyo Rooms Terms And Condition For Unmarried Couples
Oyo Rooms understands the criticisms and taboos of the society for which it proceeds only with the valid rules. So, if you set the Oyo couple friendly filter from the category section then you will be able to see all the available nearby Oyo rooms and hotels that allow unmarried couples.
And on top of that, they have a hassle-free policy i.e, hotels coming under this filter will not any awkward things like asking questions and judging situations and if you pay online then the only thing you have to do is to provide your id's at check-in and they will guide you to your respective allotted rooms, simple as that.
For the full detailed information, please visit Oyo terms and conditions, and be wild and free.
Conclusion
Finally !! That's the wrap. I hope you are now aware and sufficiently equipped with all the requirements and got crystal clear regarding the most important query, "Is oyo rooms safe for unmarried couples?".
No brainer, Oyo rooms are safe and they are the best deals to book hotels for unmarried couples. Only you need to do is to find Oyo couple friendly hotels nearby your location and you can spend some quality time with your loved one.
Be responsible and make sure, you are the guy who would be protecting your better half if something goes wrong unexpectedly.
Have a nice hotel stay !!
Peace out!