Gadget That Could Save Your Neck In Any Travel
Hey, what's up guys in this ranking article we are going to give you a very interesting solution for those janky travel sleepers who love to sleep but end up hurting themselves all the time.
So what's the solution for it?
Try these Inflatable Hoodie Pillow which contains a good amount of neck support it is inflatable so you don't really worry about packing them up while traveling because they can fit anywhere you want
Isn't it cool to have one of these every time you travel? I think so.
Now let's check out some hoodies with an inflatable neck pillow that will give you a comfortable sleeping experience while traveling.
1.Sunany Inflatable hoodie pillow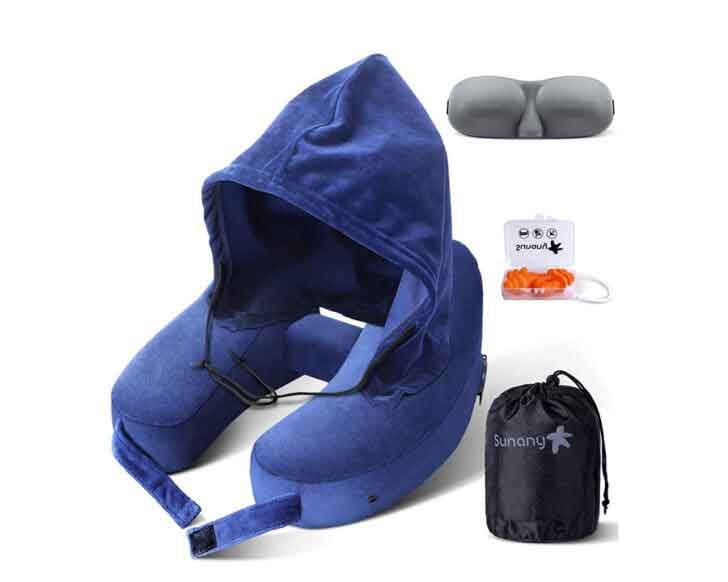 If you are the cheapest inflatable neck pillow hoodie then this is the way to go. It has 3 standard colors available blue, black and gray which pretty much covers most people's preferences.
You can use this on a car, plane, bus and also at home if you want to. This inflatable hoodie pillow comes with a small side storage bag which is super handy for different purposes.
It is super easy to pack after taking out the filled air, though it comes with a compact bag to put the pillow and hoodie cap on. So if you are looking to buy the cheapest one possible this is the way to go.
2. Pillowdy Smart Full Zip Hoodie
Now, the first one that we listed on this list was just neck support and cap but this product by Pillowdy is something else. If you are looking to buy a whole package that also you can use on a day-to-day base this thing gets crazy.
It comes with a very smart design and combines a Hoody jacket with an air neck pillow. Its special structure allows air to pass through easily and lets the user inflate and deflate the neck pillow within seconds.
When you don't use the pillow, no one will ever imagine that there will be an air pillow in your clothes. Isn't it cool?
3. Pillowdy Windbreaker
This is very similar to the first Pillowdy product that I mentioned on the list.
The difference is very minimal as it is Wind Breaker edition and also a bit more expensive.
This hoodie is perfect for outdoor activities to get some rest while camping, fishing, or hiking.
It is also waterproof, so what are you waiting for? Go get one.
4. HoodiePillow Inflatable Neck Pillow
HoodiePillow is a well-known brand of neck pillow products. Also, their products are actually very good.
This hoodie with an inflatable pillow comes in 5 different colors.
It comes with a foldable bag to pack your neck pillow which I think is not that great because it's quite big. but you can use that if you want to.
5. HoodiePillow Inflatable Neck Pillow
Last but not the least, This is also by the HoodiePillow brand as we don't have so many brands to produce this inflatable neck pillow hoodie.
It is a pretty much similar product to the previous hoodie pillow except for the color.
It uses 80% Polyester/20% Cotton. Also Includes two drawstrings to adjust the head size and level of hooded comfort.