We've Found Nepal Best Beginner Trials
We might feel hesitant about our first trek even though we love the idea of going for a hike and sipping some tea while enjoying a mesmerizing view of our travel destinations. But Can our modest muscle could handle continuous walking? It brings many doubts.
But get ready to blow sky-high. We had the solution you are looking for. With relatively easy walking and little-to-no special gear, these are the ideal sites for first-timers.
So, here's a list of the 5 best treks in Nepal for beginners.
1. Ghorepani Poon hill Trek
Where: Border of Myagdi and Kaski in Gandaki Province
Distance: Around 1.5 km / 0.9 mile (1 hr trekking time)
Best for: Early waking beginners for watching breath-taking Sunrise
Want to see the Himalayas but aren't quite ready to trek to Everest Base Camp? This trek delivers some of the country's most magnificent and diversified landscapes, although having a lesser-known reputation.
For those who have never hiked before this trek to Poonhill is a mix of reasonably simple walking and breathtaking landscape. Thanks for the trekking routes for easy and majestic mountain views making it one of the best places for trekking in Nepal to beginners.
Every few hours, the scenery changes dramatically. The rise before the sun and climb to the Poon Hill viewpoint, which takes 45 minutes is everything all about the journey. Watch the sunrise over the Himalayan range from there. If you haven't yet worked out how to use the panorama mode on your camera, now is the time to do so.
Pro tip: To save money carry a refillable water bottle and filter kit. Ultimately that will save the environment too.
2. Annapurna Base Camp Short Trek
Where: Annapurna region of Western Nepal
Distance: Around 67 km long
Best for: Beginners who want to get face-to-face with an eight-thousander.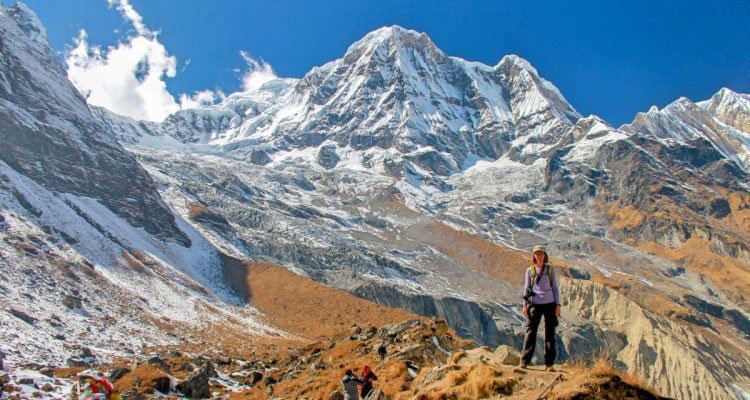 One of the most popular treks in Nepal's mountainous Himalayan region is the Annapurna Base Camp trek. And rightfully so! You'll walk through a rhododendron and bamboo forest, as well as farm terraces with breathtaking mountain views, on your way to the top. Along the trip, you'll pass through a number of ethnic settlements, including Gurungs (Home of the Gurkha warriors).
The Annapurna Base Camp hike is ideal for people who have limited time but still want to see the Himalayas from the base. From base camp, the 360-degree view of the mountain is nothing less than breathtaking. The natural hot spring at Jhinu, where you will spend your final night, is another key component of this trek.
Asian and Nepalese trekkers are the most common participants on this trek. However, you will find tourists from all over the world who might have come to view the Annapurnas' beauty and charm.
Pro tip: You should have the best trekking shoes and socks to save you from frostbite while trekking to ABC.
3. Langtang Valley Trekking
Where: North-central Himalayas of the Bagmati Province
Distance: Around 65 kilometers/ 40 miles
Best for: Beginner photographers looking for Clear Sky & Mountains Landscapes
Langtang Valley trekking is the perfect option if you are looking for a short, relatively easy, teahouse trek. It is a great introduction to Himalayan trekking, with the added bonus of breathtaking mountain views from day one. It is situated within the 1710 sq km Langtang National Park, which encompasses high mountains, peaceful Tamang villages, as well as the holy Gosainkunda Lake, and one of Nepal's oldest monasteries.
If you are lucky, it is possible to see the endangered Himalayan red panda, pika, muntjack, and musk deer on a clear day.
Well if you are a bird lover that's a bonus! As this region is a major migratory bird passage, many different bird species can be seen.
Despite having remote trekking routes, this hike is preferred by most sight seekers who love the panoramic mountain views; if you are on this list? Surely you can join. Kunwar Travels recommends the Langtang Valley Trek because it's enjoyable & will give you a trekking experience that is less strenuous than some of the other Himalayan treks in Nepal.
Pro tip: It is compulsory to have a Trekking permit to enter Langtang national park, you can buy permits in Kathmandu at the Nepal Tourism Board (NTB).
4. Khopra Trek
Where: Annapurna Region in western Nepal
Distance: Around 12.5km / 7.7miles (4-5 hrs of walking)
Best for: Beginners looking for the best place to avoid crowds.
If you wish to go on a short, beautiful, off-the-beaten-path hike in Nepal with pure views embracing yourself? If that is indeed the case, this is the journey for you. The Khopra trek in the Annapurna Conservation Area is an exciting little-known 8-day trek that will take you right to the heart of stunning sunrise and sunset view of Annapurna South, Machapuchare, and the entire Annapurna and Dhaulagiri range as well.
As Nepal hikes for beginners you go up a steep and high hiking trail with beautiful views of layers and layers of mountain peaks leaving behind you, the trek up to Khopra Danda (3,660m) feels visually similar to a mountain climbing experience.
Rare natural species such as the dear, monkey, yak, blue sheep, and Monal will also be visible. The Khopra hike should be your first choice if you want to visit a freshly found but distant location. A postcard-perfect landscape awaits you around every curve.
It is, without a doubt, one of the most exciting short treks in Nepal for beginners.
Pro tip: You may get cell phone signals, but at high altitudes, the signals may not be strong enough. Use Wi-Fi available at lodging places over there.
5. Everest View Trekking
Where: Sagarmatha National Park
Distance: Trek is around 51 kilometers (5-6 hours a day)
Best for: Beginners looking to encounter the World's Highest Peak from closeup.
Be prepared to record this remarkable experience on your camera! Trekking through pine trees, rhododendron forests, plentiful animals, and breathtaking views at every turn is, of course, delivers great value for beginners specifically.
Everest View Trekking is a great way to get a flavor of mountain life in a short amount of time. Perhaps you're short on time or unsure whether you want to commit to a long journey; perhaps you just want to learn more about trekking. Regardless of your motivation, the Everest View journey will be ideal for you.
This is Nepal's second-most best trekking place in Nepal. And rightfully so! This is where the world-famous Sherpas call home. During the trip, you will be treated to stunning vistas of Mt. Everest, which is broken up by steep valleys and mountain valleys.
Pro tip: The rainy season may cause the trails to be slippery and muddy so be careful during your trek if you are facing weather difficulties.
People Also Loved Reading: Everest Base Camp Trek | 2021 Complete Guidelines
So What's Next?
Thanks for reading our guide to the best trekking in Nepal for beginners.
Like what you've read? Make sure you bookmark this page and pop back soon, we're constantly adding new top travel places in Nepal.
Ready to read something else now? Check out our guide to the 10 Best places not to be missed while visiting Kathmandu.